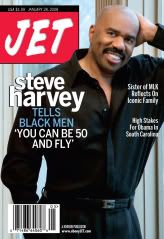 People were going crazy yesterday looking for Steve Harvey's new bald head look on the cover of Jet Magazine.
And I guess the hype hasn't died down.
I couldn't even get on SteveHarvey.com yesterday, and JetMagazine.com won't work for me today.
I guess a whole lotta people still want to see his bald head.
Steve's bald head looks fine to me. I like that he says at 51, he's on top of the hill, not over it — as some woman said to him.
I'll be turning 39 — Lord willing — this April, so I can understand the feelings behind growing older and trepidations that can surround it.
But he looks good. It's an honest look. And bald is still in, so who cares? As long as he's comfortable in his own skin.
More than what's on top of his head, I like to know more what's in a man's head, and in his heart, most importantly.